A) PRICING

is particularly important. The business is expected to sell its products above the replacement costs or restocking cost. After "hard lockdown" there has been a significant surge in price levels. The business which sold its products at pre-lockdown prices were unable to purchase the same amount of goods they would have sold. Prices went up because of lack of production, restricted international trade, and movement of goods. When pricing your products or services the following needs to be considered:
Competitors prices
Current supplier prices
Government regulations
Business strategies
Product demand

B) PHYSICAL CAPITALISATION DRIVE

A business run properly should work towards acquiring assets which include machinery, premises and motor vehicles to mention a few.
Premises (Property)

Premises can be used as offices, storage rooms, parking space, and extra space can be rented out for extra income. Premises are also a desirable surety when seeking bank loans. All businesses which rise to prominence have premises of their own even though they may lease some properties. Premises preserve business capital.
Rent is a significant part of business expense. For example, say a business pays R 20 000 rental expense per month, it sums up to R 240 000 per annum. This is a significant amount and could be used to purchase a commercial stand and develop modern day business premises.
In some industries machinery means big business and big contracts. This is the case with construction and mining industries. The more machinery the business has the larger the business capacity.
C) COST CUTTING MEASURES
The key cost areas to consider are:
Suppliers

Negotiate better terms or lower supplier price.
Change supplier and engage the ones offering low prices for the same quality of products or services.
Negotiate credit facility with the current suppliers.
Consider eliminating intermediaries on certain products if possible. For example, a retailer may eliminate wholesalers by purchasing from manufacturers, or a business may import its own materials and products instead of relying on local importers. This has an effect of reducing the expense called "cost of sales" and "cost of production", depending on whether you purchased finished goods or inputs.

Finance

You may replace bank overdrafts and loans which have high interest rate with loans with low interest rates.

Production

Training of employees to be efficient and ensuring the use of better tools and machinery leading to a reduction in labour costs.
D) SETTING MORE HOOKS INTO THE FISHPOND
Satellite offices

The business may place offices in cities close to the head office or in different parts of a big city. It takes the form of renting an office in each business territory. The satellite offices will be operated by an individual who is able to give clients quotations and product knowledge.

This strategy is used by soldiers and hospitals. The soldiers usually have a command centre, and they send battalions to different parts of the territory thereby increasing coverage, and areas of engagement.

The business may set up satellite offices in different geographical areas which automatically become business client catchment areas. It is a cost to the business, however, there are clients who believe in businesses within the proximity of their residential areas.

Boosting your social media engagement

The business may make use of many social media platforms which may include YouTube, websites, blogging, Facebook groups and pages, and WhatsApp groups depending on the nature of the business. Service providers like insurance companies are more effective with a WhatsApp group than a Facebook page. At times, a business may combine YouTube advertising and Facebook trends. Social media offers business exposure of its operations and products. The tasks at hand will be to send out email updates and post regularly on social media.




Turning Your Website into a Sales Machine

This involves creation and improvement of the business website. The website may give clients the product categories, product range, product price, product pictures, and options to make orders, contact the entrepreneur and make payments if possible. Whilst you are relaxed the website may be active capturing orders, clients and collecting revenue for the business. The website must be designed to offer the client the following information:
Business physical address,
Business contact numbers,
Business email address,
Business vision and mission,
Product strengths and specifications, Product usage,
Product types and rages,
Product price,
Product pictures.
Improve your search engine rankings

Many location-based services rank very well in search-engine findings on the internet. That is they appear high up the page of search results.

If you fill in your business pages on a number of location-based services like Google My Business, Website blogs, and Facebook places, you are more likely to appear high up in search engine rankings when somebody types in a relevant search term.

There are also numerous advertising websites like Gumtree, Junk Mail South Africa, Ads Africa, Locanto, Public Ads, Howzit, Booc South Africa, Afribaba, Class Ads to mention a few. Some websites are free, while others are paid for.

Advertising under different names

Use different names when advertising by way of alternating the registered name and trading name. Some adverts and websites will bear the trading name and other adverts and websites will bear the registered name. A business may obtain two quotations from the same client. The business will be using one office but obtaining orders and clients through use of two names.

Operating under different names

A business may employ two or more separate branches within the same place branding the branches differently but merchandising the same type of products. In the eyes of the unsuspecting clients these will be different businesses. If the competitor next door can make profits, then this strategy really works. However, there is need to differentiate products and prices. It works if the branches are managed by different people given autonomy to set prices and order products of their choice from suppliers of their choice.
E) TOTAL QUALITY MANAGEMENT



Total quality management is based on 7 principles namely, 1 customer focus, 2 improvement, 3 Evidence based decision making, 4 people involvement, 5 Improvements, 6 process approach, and 7 Leadership as shown by Figure 1 above.
Total quality management (TQM) is the continual process of detecting and reducing or eliminating errors in production, streamlining supply chain management, improving the customer experience, and ensuring that employees are up to speed with training. Total quality management aims to hold all parties involved in the production process accountable for the overall quality of the final product or service.
Total Quality Management (TQM) is a management framework based on the belief that an organization can build long-term success by having all its members, from low-level workers to its highest ranking executives, focus on improving quality and, thus, delivering customer satisfaction.
Total quality management focuses primarily on meeting customer specifications and expectations.
Quality improvement is implemented at every level of production and in each department.
The business acquires quality inputs.
Workers are trained to be committed and to produce quality products and services.
Processes are continuously improved to meet quality standards.
Continually improve processes and products, and upgrade equipment as necessary to reach goals.
Continuous improvement of equipment, tools, and other business structures.
"Identifying, understanding, and managing interrelated processes as a system contributes to the organization's effectiveness and efficiency in achieving its objectives.
Make responsibilities clear, provide adequate training, and make sure that the resources are used as efficiently as possible.
Create an environment where employees can openly discuss problems and suggest ways to solve them.
Make decision based on facts and we call this informed decision making.
Establish an official line of communication so that all employees know about updates, policy changes, and new processes.
Where possible, involve employees in decision-making.
Recognize, acknowledge, and encourage innovation to improve processes and development.
Encourage employees to participate in available training sessions to learn and take on new and additional roles.
Implement a system of controlling and assessing quality of production.
Merits of Total Quality Management
More sales, increased revenue, market share, and mindshare.
Strong customer loyalty leading to repeat business.
Increased possibility that satisfied customers will tell others about your products and services.
Increased employee retention because employees are motivated, committed, and actively involved in working toward customer satisfaction.
Individual and team innovation and creativity in problem-solving and process improvement.
Employees who take pride and accountability for their own work.
Enthusiasm for active participation and contribution to continual improvement.

F) BUSINESS CLONING

Sometimes tweaking an existing idea is both easier and more profitable than creating something from scratch. Copycat companies are a reality of doing business. Businesses have made millions through cloning other businesses. Cloning may come in form of product cloning, process cloning, work environment cloning, branding cloning, cloning of the segregation of duties or technology cloning. It's not a crime today if you check there are vehicles produced by Mazda, Toyota, Ford and Isuzu which look almost the same. Figure 2 above attest to product cloning.
Reasons for copying other businesses:
You learn from others' mistakes
Proven formulas and methods work
You can achieve cloning by:
Employing your competitor's shopfloor worker involved in business core operations.
Employing your competitor's supervisor or manager.
Observing rival company's products or finished work
Buying competitors product and produce imitations.
Observing the competitors' activities.
Spying your rival through his worker force.
Obtaining your competitors advertisements, catalogues, reports, and pamphlets.
Checking your competitors' websites for information relating to products, brands, prices, processes, credit terms, annual statements if published and so on.

G) B-BBEE

B-BBEE is Broad-Based Black Economic Empowerment which is a racially inclusive initiative by the government of South Africa to redress the disparities created during apartheid. This program seeks to offer Africans, that is Black, Asian, and Coloured Citizens of South Africa, equal opportunities accorded to Whites as an affirmative action.
Although there are no direct financial penalties that could be applied to non-B-BBEE compliant businesses, the system ensures that Procurement managers and Buyers will favour businesses that are compliant since that heightens their own B-BBEE Scorecard under the Preferential Procurement element provisions.
There are seven B-BBEE elements, and each contributes to the outcome of the Scorecard and the ownership element is just one of these. Since ownership carries a weighting of maximum 23% and 28% respectively, based on either the Generic Scorecard or the QSE Scorecard, it is possible to achieve an acceptable B-BBEE Rating without having any Black shareholders in the business.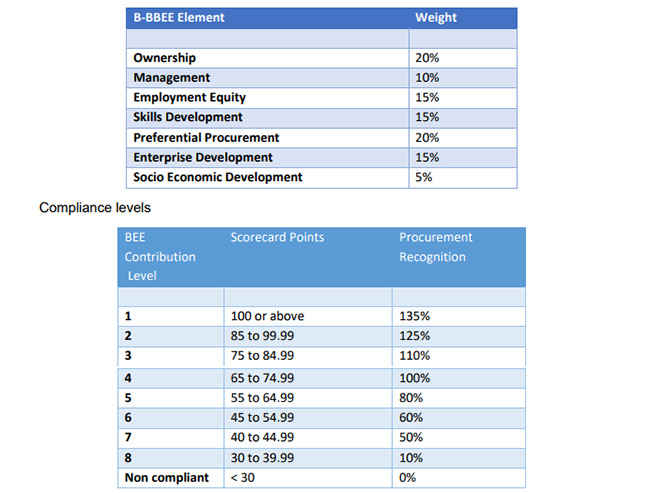 It's a matter of creating a chance for a mega contract and after meeting the B-BBEE requirements the business may not obtain any tenders. This is a bitter pill to swallow.
H) GOODS SENT TO CUSTOMERS ON SALE OR RETURN (APPROVAL) BASIS:

When goods are sent on a "sale or return" or on "approval" basis, these goods are not treated as sales unless they are approved (purchased) by the customer. However, if at the inventory count date, these goods are held by its customers without approval then they are taken as unsold goods. In that case, they are included in the seller's inventory valuation but not in the figure for sales.
Goods sent on sale or return remain the goods of the sender until they are sold. They are paid for after the sale. A wholesaler may offer trusted retailers' goods on sale or return. The wholesaler remains the owner of the goods until the retailer sells the goods. The retailer pays for the goods after sale. This is an aggressive product distribution strategy but there is risk of non-payment by the receiver or retailer. The effectiveness of the strategy rests on the ability of the receiver to account for the goods and abide by the agreement. The agreement benefits both the seller and the receiver.
I) SAVING CAPITAL

Entrepreneurs and captains of industries need to control their personal consumption habits and reduce consumption level. Reduction in personal expenditure by the business owners has potential to save capital for business growth and flexible working capital. In difficult times discipline pays. It is prudent for directors to allocate themselves a monthly fixed salary for a certain period. Appetite for consumption may wipe out capital.

J) BUILD RELATIONSHIPS

Building relationships with clients may create customer loyalty. Listed below are some of the tactics for building relationships and connections:
Always honour and respect your clients
Networking with business clients especially suppliers and customers. The greatest compliment in business is a referral. We should be thoughtful, have the right motives and be connecting people for the right reasons
When there is an effective, tested and positive communications strategy in place, you are less likely to experience any confusion or frustration in your daily interactions with the people you are conversing with, whether it's internal or external stakeholders.
Get more personal e.g. meet ov er a cup of coffee after work. Be willing to share experiences, ideas, points of view and simply learn more about each other's story, family, and professional history.
Serve as a mentor. According to Junot Diaz "Colleagues are a wonderful thing – but mentors, that's where the real work gets done." Offering to serve as a mentor to a younger, aspiring professional can give you credibility among your business relationships. You might also learn much more about yourself and your leadership style than you anticipated.
Block out dedicated time to brainstorming, engage and do business together.
Offer something before asking for something.
Find ways to connect with less valuable contacts.
Be consistent in your business relationships.
Educate, do not sell. If building relationships requires trust and credibility, then educating – as opposed to selling – is a big enabler of professional services relationships
Ask for feedback. Instead of assuming your clients and vendors are happy, ask! Open communication is a basic component of any relationship.
Positive reinforcement: Reinforcement is the process of encouraging or establishing a belief or pattern of behaviour, especially by encouragement or reward. The company is offer discounts and favourable credit terms. The customer representatives are offered gifts and presence and marketing materials like t-shirts, diaries, umbrellas, bags, shirts, iPhones and luncheon. Promotional material is usually branded.
Positive reinforcements or rewards offered to the company have never been mistaken for a bribe. Rewards offered to company executives or employees may be construed as a bribe.
A wise entrepreneur should be mindful of the following:
Avoid giving money or cash to business clients.
Do not give more valuable items to clients e.g. a vehicle.
Reinforcement reward should be given after concluding all transactions.
Rewards should be issued for a good reason.